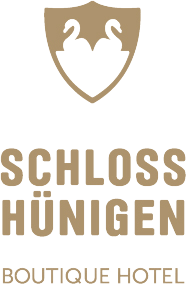 *
*
*
*
Seminar hotel, wedding venue and boutique hotel in Emmental, Switzerland
Schloss Hünigen
The venerable Schloss Hünigen, dating back to the 16th Century, is a boutique hotel offering tranquillity and relaxation, no matter what the occasion.
Stay in one of our 49 delightful hotel rooms during your visit. A substantial breakfast buffet, access to the fitness and wellness area, as well as parking and Wi-Fi are included in all room categories.
Versatile, scenic and majestic

Our cuisine is fresh, regional, sustainable and there's always a nod towards August Escoffier.
At Schloss Hünigen, you should feel you are in the lap of luxury and being treated like royalty. Even at breakfast, you can look forward to products from local suppliers. At the lunch buffet, freshly prepared dishes are served while the seasonal evening menu at the castle can be savoured in 3-6 courses.
The Castle bar is the meeting place of the hotel whether during the afternoon for coffee and cake or in the evening for an aperitif or nightcap.
When the weather is fine, you can enjoy a glass of wine with regional delicacies on the Park Terrace overlooking the garden.
An inspiring seminar hotel with a long history. From a small meeting in Castle Park to a large gathering or conference in Haller Saal, Schloss Hünigen provides the perfect setting for every occasion.
Enjoy the peaceful surroundings of the castle for productive work and our personal service for an unforgettable conference experience.
Host your wedding, private banquet or corporate Christmas dinner at Schloss Hünigen. Our castle park and the festive banquet halls make every celebration unforgettable.